| | |
| --- | --- |
| Posted on October 6, 2011 at 4:45 PM | |
As most of you know, Steve Jobs, former CEO and co-founder of Apple passed away yesterday. 
I'd like to adress this because Steve was a real inspiration for me. Not only was he honorable and intelligent, but he truly believed that what he was doing would affect the world. And in every way, if you hate Apple or  love Apple, you cannot deny the amazing influence Ste Jobs has had on the world. The world is forever in debt of this great man. He revolutionized the way we think of computers with the Macintosh in 1984. He changed, not only the way we listen to music, but the entire music inustry with the iPod in 2001. Our view of mobile phones was changed in 2007 with the original release of the iPhone. With his help, Apple essentially created the tablet market wiht the release of the iPad. 
One of my favorite quotes is by Steve. It goes: "I want to put a ding in the universe."  And no one can argue, that is exactly what he did. 
I'm not writing this post to mourn Steve's death, but to celebrate his accomplishments. Thank you, Steve. You might have lost your battle with pancreatic cancer, but your spirit will live on not only in Apple, but in the world.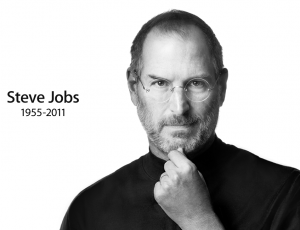 Thee apples irrevesibly changed the world: Eve's, Newtons, and that of Steve Jobs.